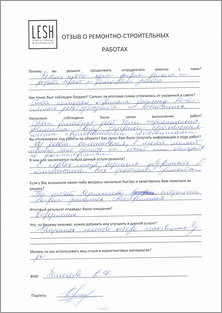 Why did you decide to continue to work with us? What has highlighted us against the background of others?
– I wanted one firm to do both the design project and the renovation work
Was the total amount significantly different from the estimate?
– The estimate fully reflected the prices of the work performed, they were not knocked out of the budget.
Were the deadlines accurately respected?
– The terms of the renovation work were slightly increased due to the delay in the manufacture of furniture by the proposed suppliers.
Did you control the work progress at the apartment? How easy was it for you to receive information on the progress of work?
– The progress of work was monitored. In & nbsp; at any moment it was possible to get to the object or track by photographs.
What is the benefit of this repair service?
– From the first minutes there was confidence in the competence of all participants in the repair.
If you had any questions how quickly and efficiently they helped you solve them?
– In any situation that arose, issues were resolved in a timely manner
Is the result justified your expetations?
– Definitely
What, in your opinion, needs to be added or improved in the service?
– Improve the quality of supplier selection
Full name: Zemskova K