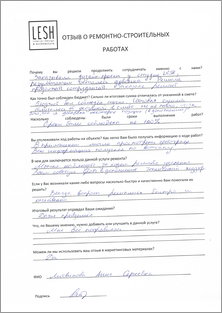 Why did you decide to work with us?
– We ordered a design project from LESH studio, I was satisfied with the result. I decided to continue to cooperate. I ordered a repair. 
How exactly was the budget met? Was the total amount significantly different from the estimate?
– The budget has been met for sure. The total amount did not differ much from that indicated in the estimate, due to the fact that I added some items (in the appendix)
Were the deadlines accurately respected?
– The deadlines were met 100%
Did you control the work progress at the apartment? How easy was it for you to receive information on the progress of work?
– I could see photos in the application. All information received on whatsapp
What is the benefit of this service?
– You can monitor the progress of repairs remotely. I advise everyone to take in addition technical supervision.
If you had any questions how quickly and efficiently they helped you solve them?
– Questions were always resolved quickly and efficiently.
Is the result justified your expetations?
– Even surpassed
What, in your opinion, needs to be added or improved in the service?
– I liked everything
Full name: Litvinova Anna