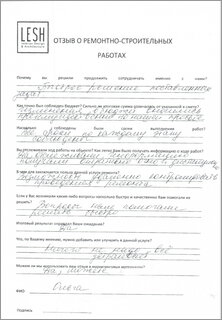 Why did you decide to continue to work with us? What has highlighted us against the background of others?
– Fast solution of assigned tasks
Was the total amount significantly different from the estimate?
– Changes to the budget were mainly made at our request.
Were the deadlines accurately respected?
– All deadlines for each stage are met
Did you control the work progress at the apartment?How easy was it for you to receive information on the progress of work?
– Yes, they did. Information was received promptly in person and remotely
What is the benefit of this repair service?
– The ability to remotely monitor the repair
If you had any questions how quickly and efficiently they helped you solve them?
– They helped us to solve questions quickly
Did the final result meet your expectations?
– Yes.
What do you think needs to be added or improved in this service?
– Nothing suits everything.
Full name: Olga