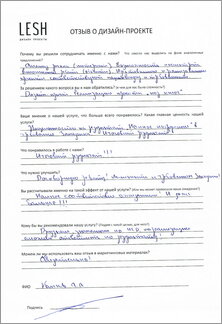 Why did you decide to work with us? What has highlighted us against the background of others?
– Market analysis (Internet) Opportunity to view completed works (objects). Manufactured and implemented projects correspond to our tastes and requirements
What kind of question did you need to decide?
– Design project. Turnkey project implementation
Tell us your feedback about our service, what did you like most? What is the main value of our service?
– Focus on results. "Full immersion" in the customer's requirement. The final result!
What do you like most about work with us?
– The final result !!!
What needed to be improved?
– Contractual work! Loyalty to customer requirements
Did you expect exactly that effect from our services?
– Full satisfaction with the expectation! And even more!!!
Whom do you recommend our service?
– To friends, acquaintances from ISD. On implementation, we will be able to answer on the result
Full name: Kolcheva A