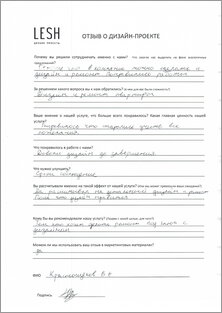 Why did you decide to work with us? What has highlighted us against the background of others?
– Because the company can do both design and repair. I liked the work
What kind of question did you need to decide?
– Apartment design and renovation
Tell us your feedback about our service, what did you like most? What is the main value of our service?
– I liked that we tried to take into account all the wishes
What do you like most about work with us?
– We brought the design to completion.
What needed to be improved?
– Compliance timeline
Did you expect exactly that effect from our services?
– Yes, we were counting on detailed design and renovation. So far, I like the design
Whom do you recommend our service?
– For those who want to make a turnkey renovation with a designer
Full name: Krasnoshchokov V.