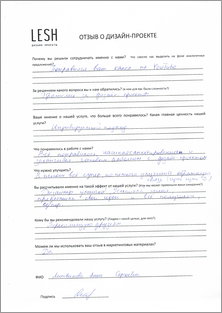 Why did you decide to work with us? What has highlighted us against the background of others?
– I liked your YouTube channel
What kind of question did you need to decide?
– We applied for a design project
Tell us your feedback about our service, what did you like most? What is the main value of our service?
– Individual approach
What do you like most about work with us?
– I liked everything, starting with the questionnaire and uploading the finished album with the design project.
What needed to be improved?
– In general, everything is great, but the feedback will be slightly improved (a little bit :))
Did you expect exactly that effect from our services?
– Smart designer! She heard me offered her ideas and everything worked out great.
Whom do you recommend our service?
– Recommend to friends
Full name: Litvinova Anna