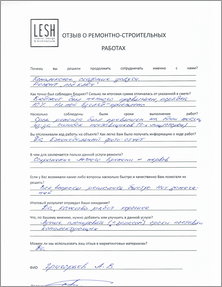 Why did you decide to work with us? What has highlighted us against the background of others?
– Integrated service provision. Turnkey repair.
How exactly was the budget met? Was the total amount significantly different from the estimate?
– The budget was slightly exceeded, about 10%. In my opinion - acceptable. 
Were the deadlines accurately respected?
– The repair period was exceeded by one month due to errors of suppliers (3 persons / parties).
Did you control the work progress at the apartment? How easy was it for you to receive information on the progress of work? 
– Yes. Weekly photo report.
What is the benefit of this service?
– Saving personal time and nerves.
If you had any questions how quickly and efficiently they helped you solve them?
– All issues were resolved quickly. No comments.
Is the result  justified your expetations?
– Yes, the quality of work is good.
What, in your opinion, needs to be added or improved in the service?
– Better to plan ("with a margin") delivery times. 
Full name: Grigoriev A.V.