If you are doing an apartment improvements and thinking about making a beautiful and comfortable kitchen in a modern style, this video is for you.
I'll tell you about some combinations of textures and materials that can inspire you to design a modern kitchen. These recommendations are more unimprovable for those who want to make a kitchen combined with living room.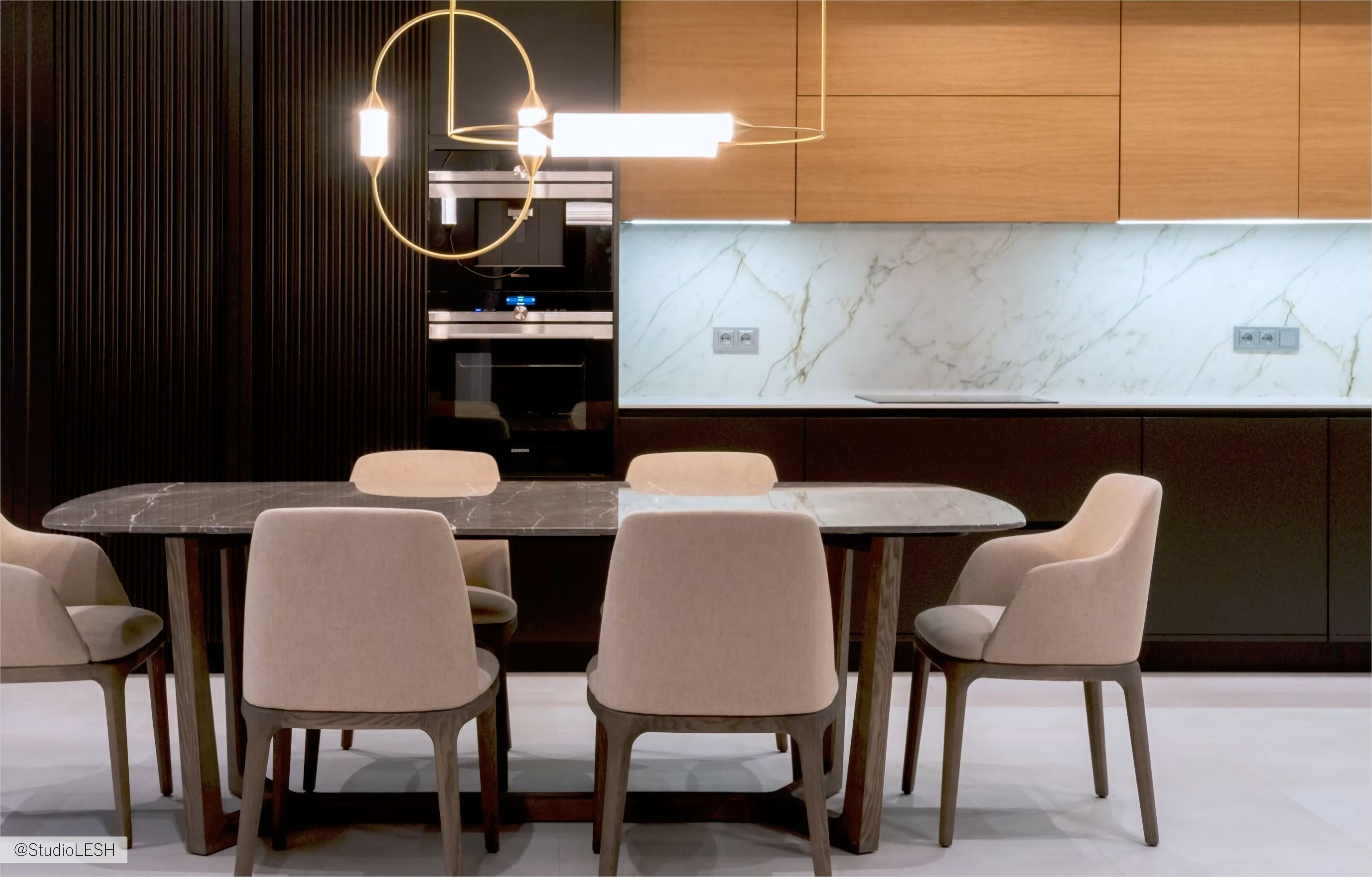 If you are renovating your kitchen now, you probably have already noticed such a problem: you come to some kind of kitchen furniture store, there are beautiful kitchens, and a huge number of different decorations, all kinds of table covers, plastics, veneered facades and enamels, in addition to all this, a huge selection of samples of tabletops made with different materials.
And all this is so beautiful that it is difficult to choose something from this abundance. On the one hand most people can't understand how to combine things to get a modern, clean and minimalistic kitchen design. On the other hand they don't want kitchen to be bleak, uncomfortable and to look like a hospital ward.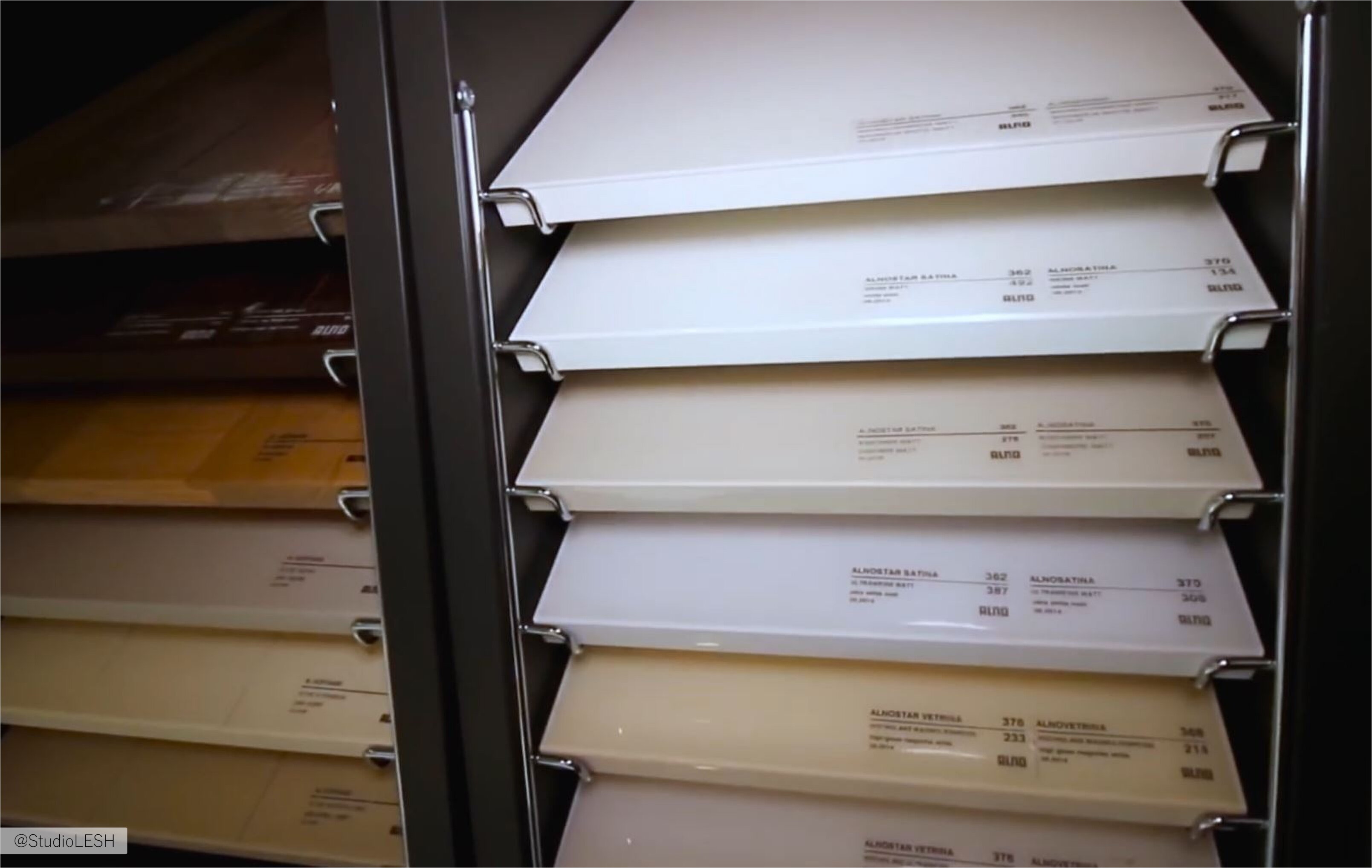 Hello everyone, you are on LESH interior design channel. I am Alexey, I am a manager and a lead designer. Today I am going to give you some simple tips and tricks about creating a modern kitchen design.
MINIMALISM
Modern kitchens are minimalistic and modest, but also the kitchen should be cozy, match the interior of the rest of the space, be a unified finished concept for the entire interior design.
That's why modern kitchens have a minimum of decor, stylish fittings and no other decorative accents. About colors, I can say, that modern kitchens have a solid color system.
I would recommend picking simple and clear colors, such as white and gray. These will add the whole interior some neatness and spaciousness that are the main features of the modern style. For bold ones, I would advise you to pay attention to the black color.
Now, for sure, the most of you will begin to resent and disagree about that, because all this stain, spots and dust are visible on black. But you can breathe a sigh of relief.
First of all, fingerprints and stains are not clung on the modern materials, and almost everything here depends on the material that you choose (not on the color). And secondly, if you don't like black, just don't choose it.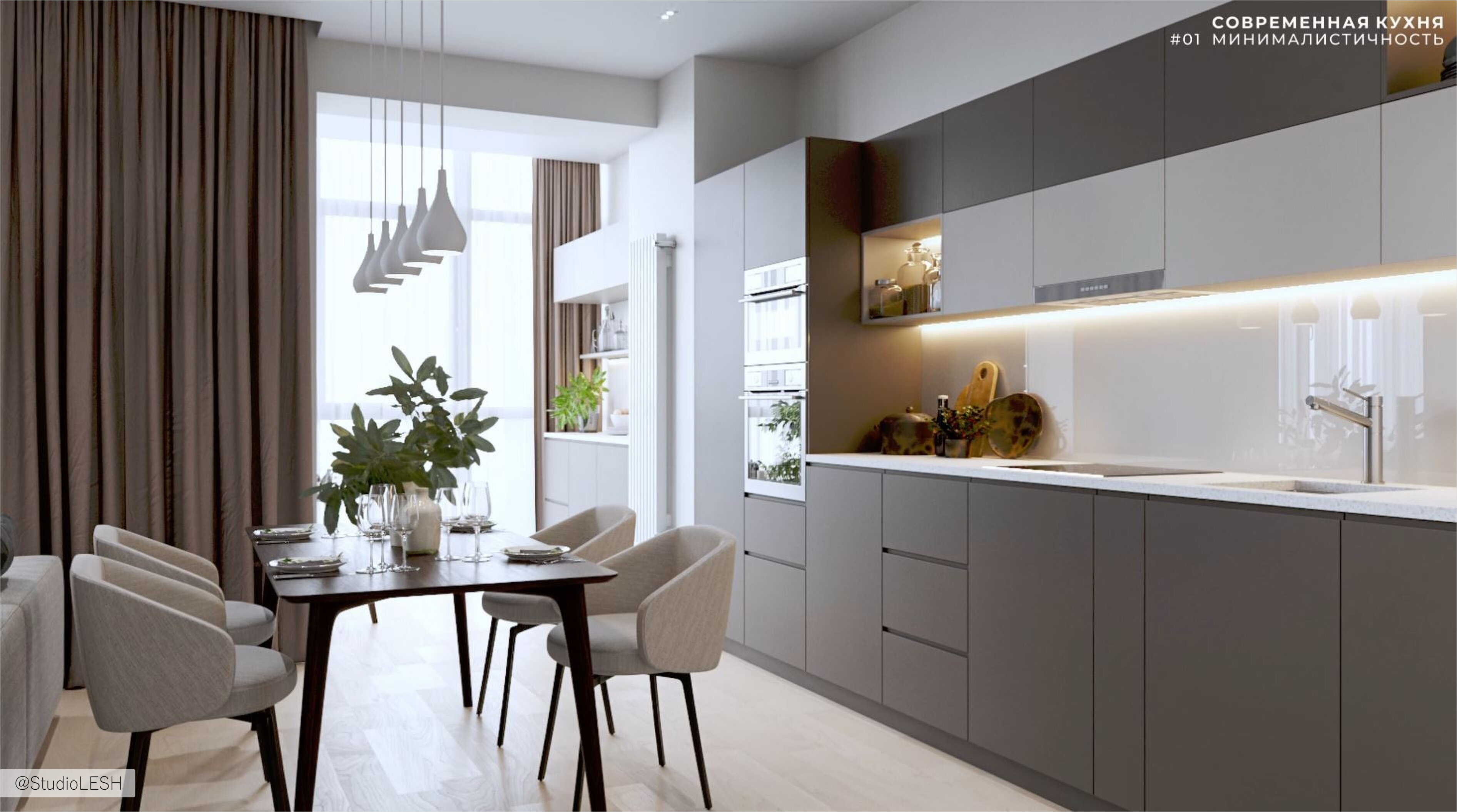 These colors will let you make such kitchen, that will organically fit into any interior and will not stand out and attract excessive attention. After a few years, too bold color won't annoy you.
So, the simplicity of color design can be perfectly matched with the rest of the modern decor and furniture in your interior, even if this furniture is rather different in style and has complex decorative selections, or your interior leans more towards modern classics than minimalism.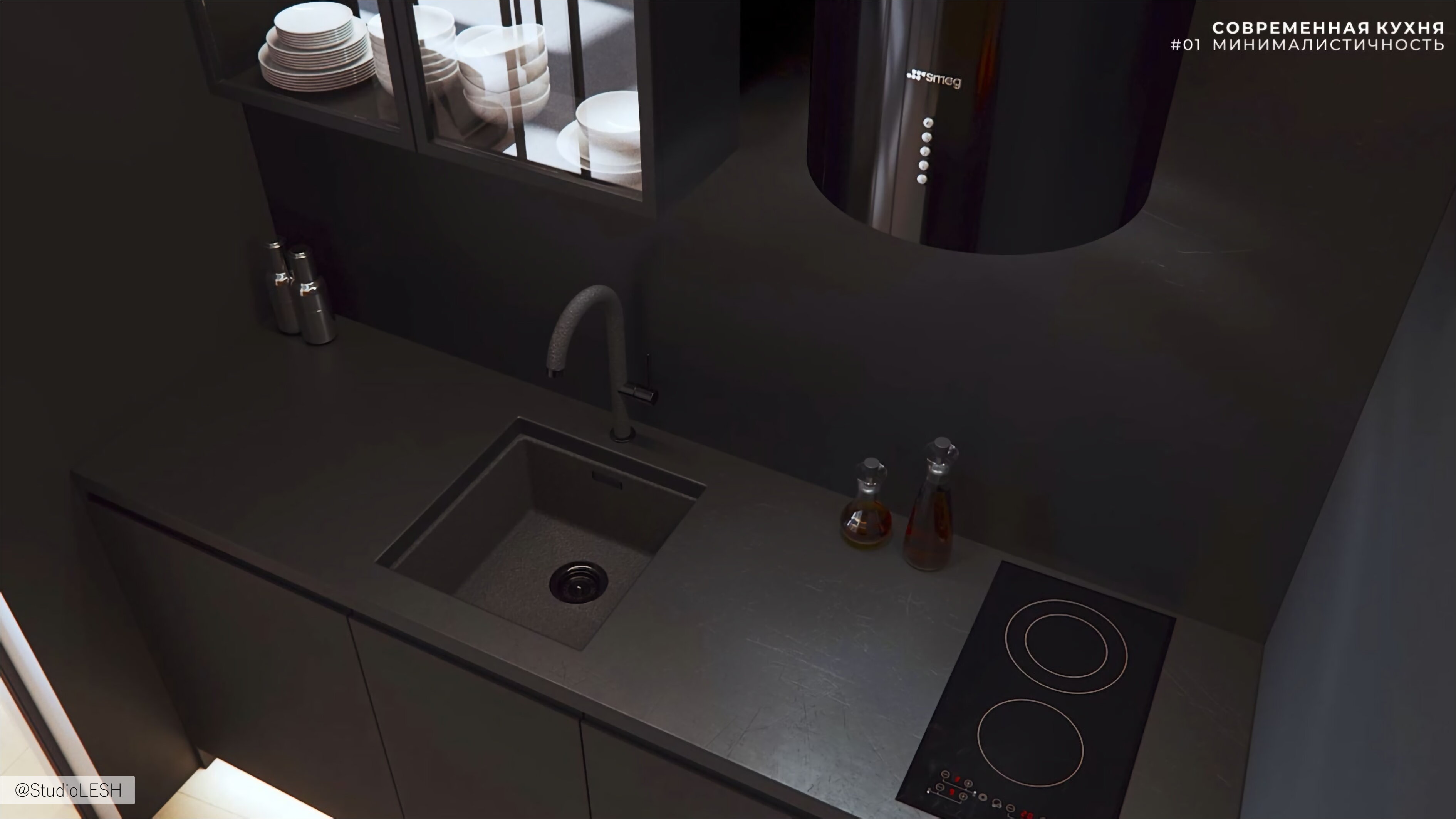 It is important for cleanliness of the kitchen, that the storage space is well-thought and organized. To achieve this, the kitchen should have several storage spaces for things that you use every day: pot drawers and cap dividers, organizers for spoons, dry food supplies, dishes and various utensils. We try to hide all this so as there is no feeling of a mess and a clutter.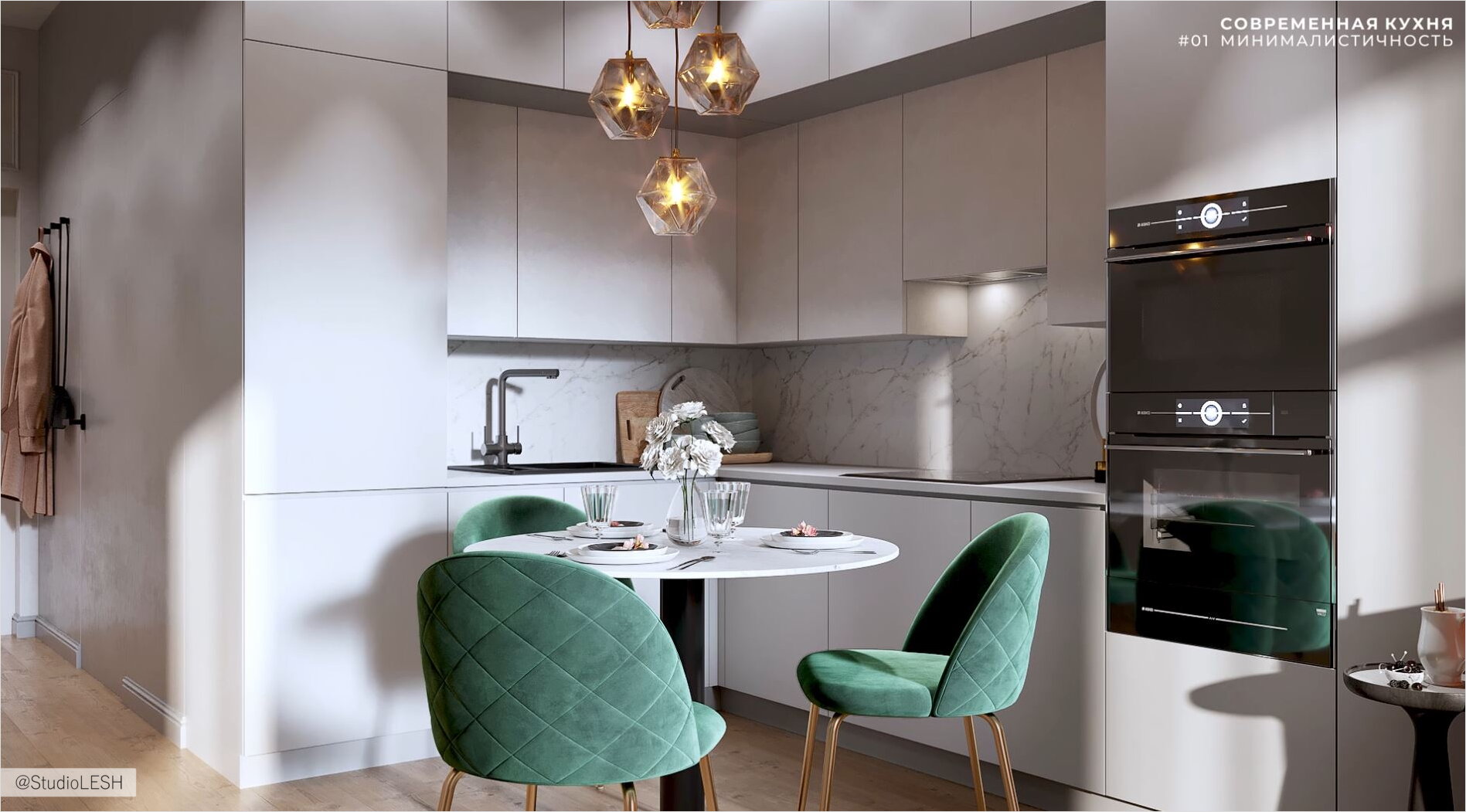 But you can also use unclosed shelves to present your individuality. You can include beautiful and stylish items, such as, for example, glassware, some designer household appliances, recipe books or other accessories that you usually use in the kitchen. Also, you can include such items, that can be used as decorative elements.
This will create a visual variety, something that will arouse interest and a desire to look at it. The option of using an open shelves can also give your kitchen a more regular, household look.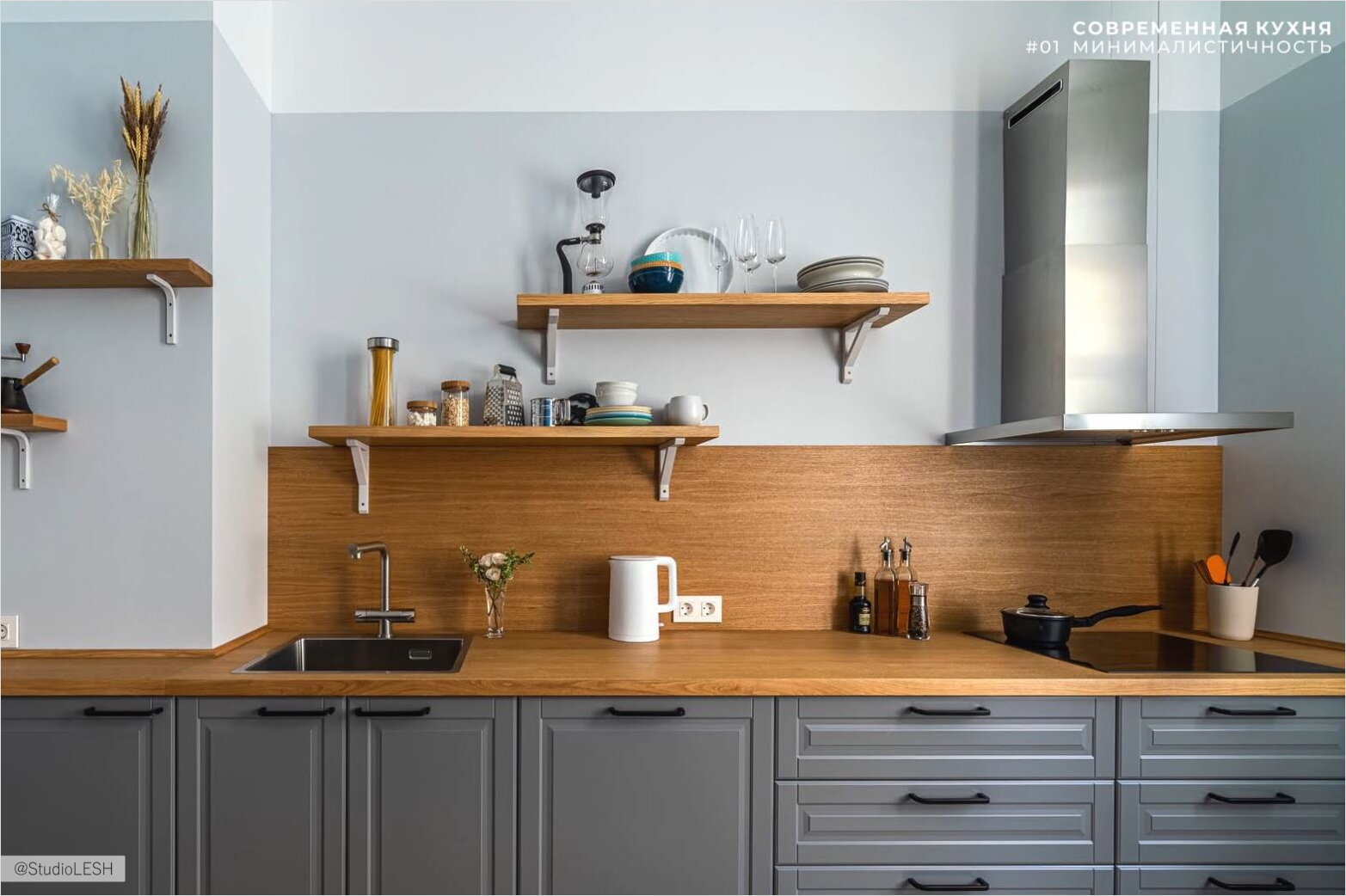 In addition to this, if you use unclosed shelves in the living room, this will be a kind of connecting element which will further support the concept of the kitchen combined with living room.
Well, the kitchen stops to be just a kitchen, it becomes a part of the living room, part of the entire space.
KITCHEN ISLAND
The island is the most important element of a modern kitchen, today the kitchen island is the place where everyone gathers, especially if there are places, which are free from functional purposes, just free space to sit and do something, for example, draw. It can also be a place where children do their homework while their parents are cooking.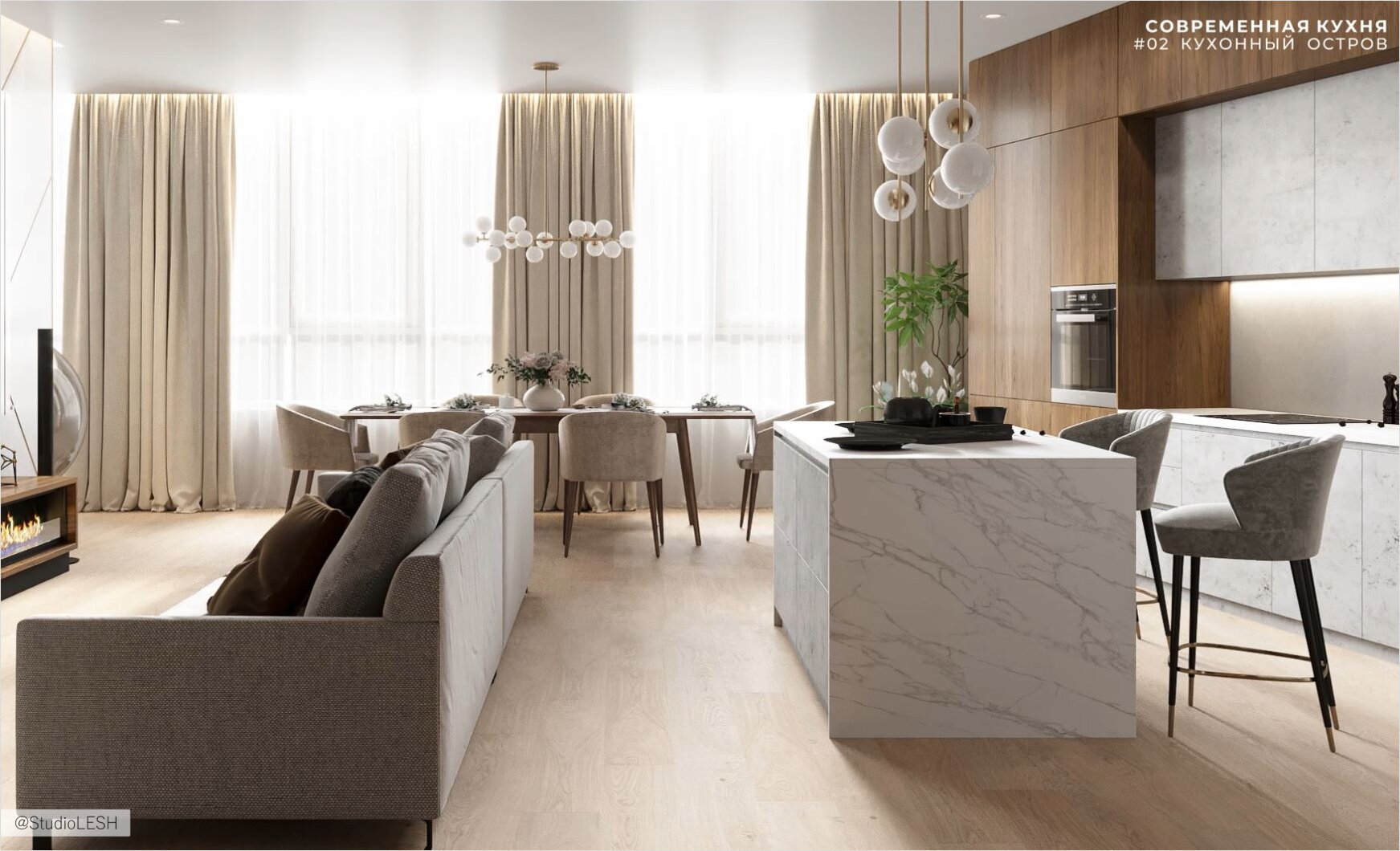 This will help keep the family together and strengthen the relationships between household members, that's why it is very important that your island matches your needs. Try to think about a purpose of it, why you need it.
Maybe you need special storage space or a place to have breakfast, or a place, where you can converse with your friend while you cook dinner.
The island is a great addition to the kitchen, to its functionality and visual harmony with your entire interior.
LIGHTING
The island must be completed with such an element as lighting, so that it become a real functional center of your apartment. A properly selected lamp should not only be nice, but also have a number of features to be as comfortable for you to use the island as possible, no matter what you are doing.
That's why it is so important to work out the lighting over the island. And I would like to recommend you an excellent channel, which has everything about it. I used a small incut that perfectly connects with our question.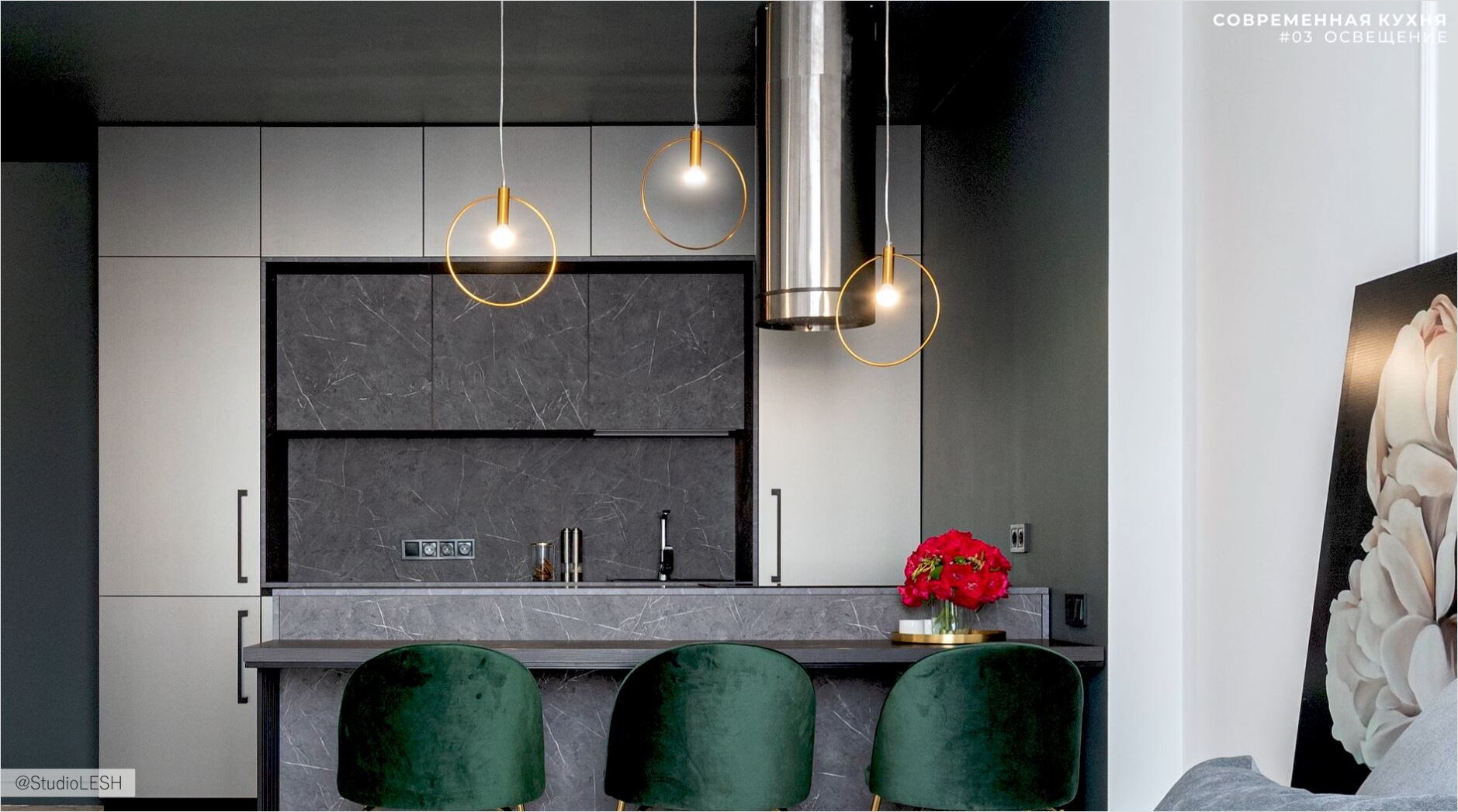 I am Sergey Renjin, this is a channel about lighting design. The fact is that the lamp that is located above the common table constantly attracts our attention and the attention of our guests. As soon as we enter the kitchen space, the first thing that catches our eye is the lamp. Even in the daytime, and that's not to mention the evening. It is a very significant part of interior design. And it is important to make it look beautiful, appropriate and relevant to this interior.
And it is not less important that this most beautiful lamp also performs its direct function. It is necessary that the lighting is comfortable and convenient both horizontally and vertically. That means, that not only the appearance must be on the highest level, but also the quality of its light.
If this outwardly beautiful lamp illuminates only its horizontal part well and at the same time does not work well with vertical illumination, any party will turn into such a Mafia's family. Just imagine, everyone sits, their faces in the shadow, people see only hands and food on the table.
Why we need it? You know that we come to get a joy and pleasure from communication with our friends. So it is better to look at these well-lit faces. That's why it is important that the vertical light of the lamp is also on the high level. This means that it must have good optics, good light distribution and a well-formed luminous flow.
The link to the full video: https://www.youtube.com/watch?v=74F83tYhlzI
TEXTURE
If your kitchen shares space with a living room or dining room, don't forget to choose elements that match each other across the entire space of the room. The color of your chair can match the color of sofa cushions or a painting on the living room wall. It will be comfortable both for the owner of the apartment and the guests to look at all these items, moving around the space. This subtle color combination also provides a cohesive atmosphere.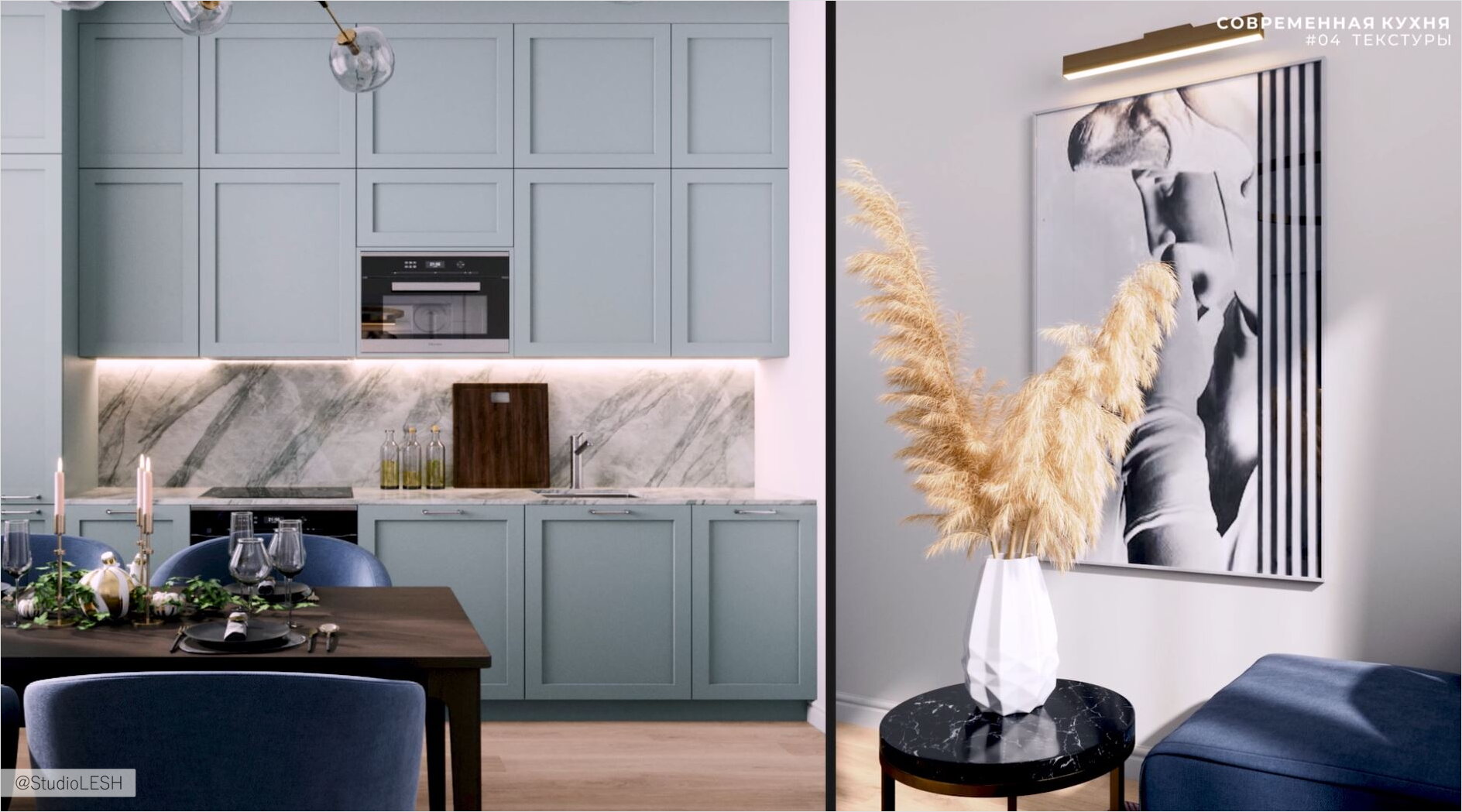 We talked about the right combination of the kitchen with the living room recently in one of our videos, and you can return to it later.
The important elements defining the style of your kitchen are unique accessories such as faucet and its lever, sinks and lamps. They give the space special features and perfectly complement the modern color palette.
Let's try a few combinations.
If your kitchen is white with a clean and modern look, try to use matte black elements to complement it. For example, lamps, a sink, a faucet. The use of matte black metal in accessories will create a higher contrast and emphasize the white color, its purity and freshness.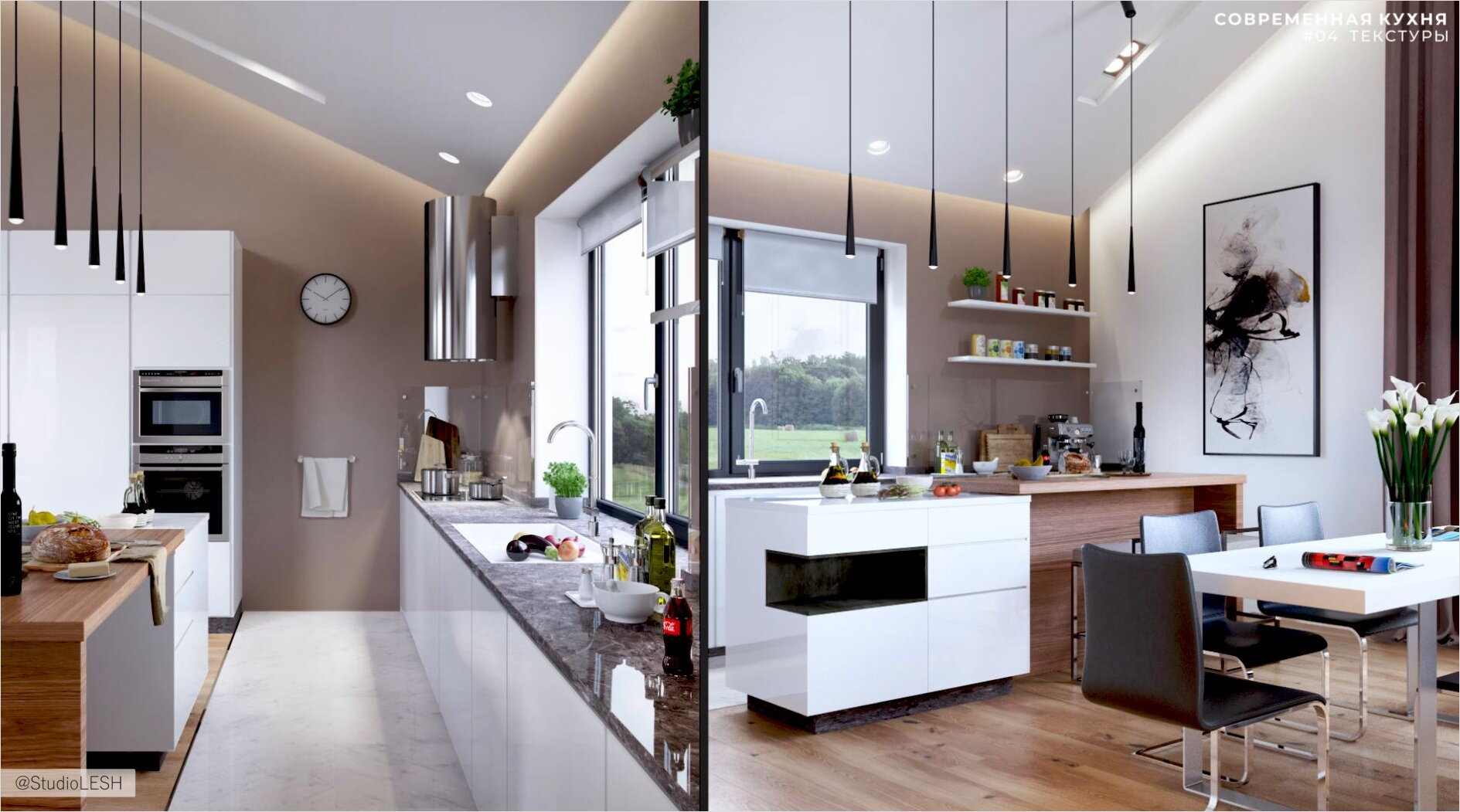 If the finishing with concrete or stone tiles is wooden, and it combines matte black facades, you can add matte golden details (for example in lamps, or in levers). It's going to be an excellent addition. It will make your kitchen look more luxurious still being modern and minimalistic.
THE APPEARANCE OF THE ITEMS
When you start making modern kitchen, consider using textured materials combined with a smooth and polished finishing. For example, doors of cupboards can be textured. Or wooden items can be perfectly combined with a polished tabletop and an apron. Or one part of the facades can be smooth, and the other — textured.
Sensory perception is improved both visually and tactilely because of textured finishing. The kitchen becomes more comfortable and warm for our perception.
Today, the matte surfaces are the most popular choice for use in all parts of the modern home. In kitchens this type of finishing is used in tiles, plumbing, accessories, tabletops and aprons.
The matte surface is soft to the touch, it gives a feeling of warmth and has a natural appearance. Also, matte finishing is becoming more and more popular, because stains and scratches appear faster on a glossy surface.
Matte finishing is perfect for large kitchens because they interact better with each other, with the decor and furnishings of a modern home.
Remember that in the concept of open space, different functional areas have to talk to each other in order to create a common space.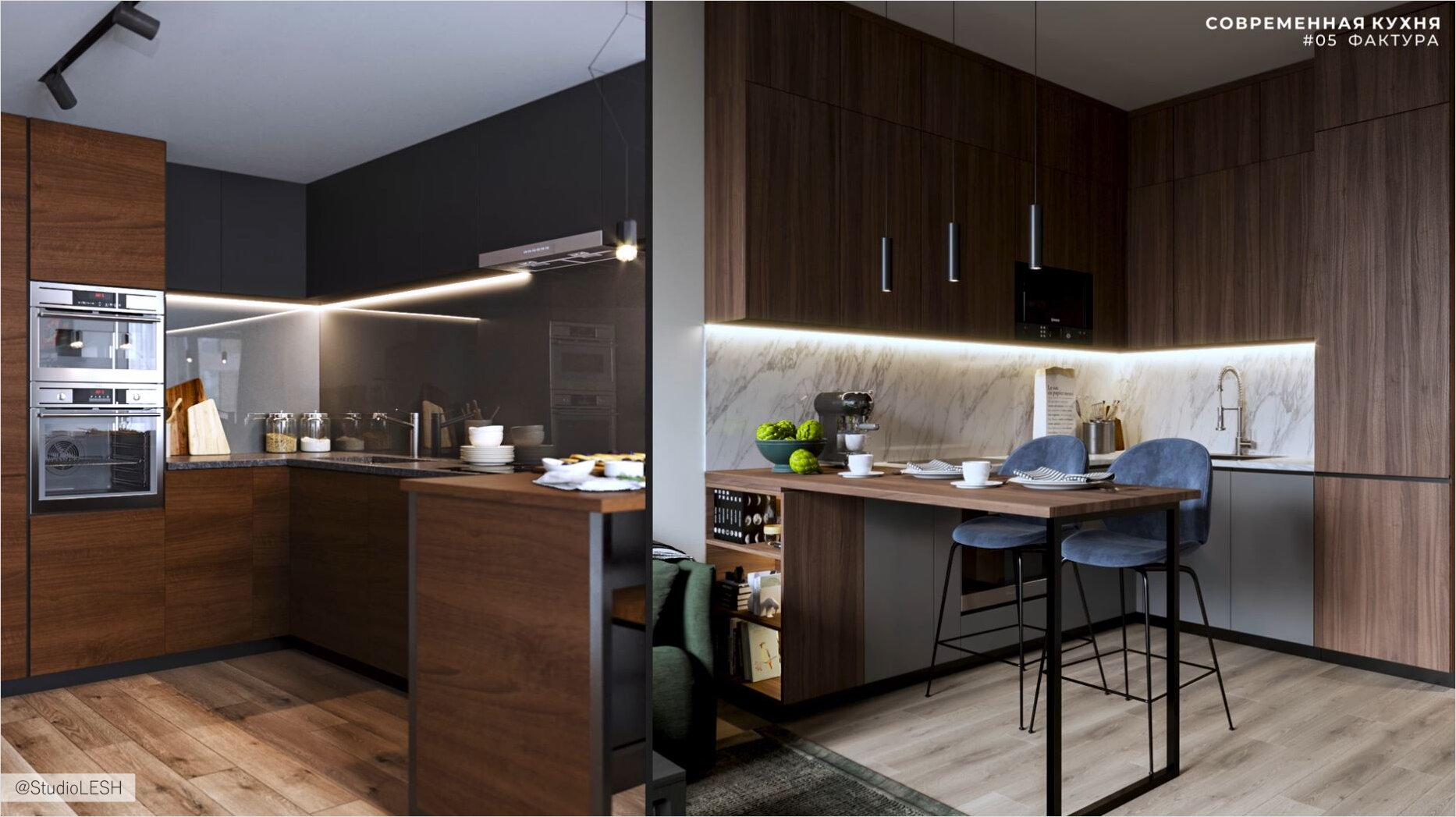 Matte finishing is also perfect in combination with wooden textures. This kind of combination is very often used in modern apartments because it gives the feeling of warmth that any home needs. In addition to this, the matte finishing also creates an awesome sleek look that makes your kitchen more stylish and exquisite.
If you still have any questions, necessarily text in the comments, I will try to answer. And the most interesting questions will be the topic for new videos. Goodbye, see you in a week.