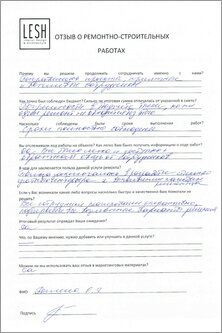 Why did you decide to continue to work with us? What has highlighted us against the background of others?
– I liked the projects, pleasant and polite employees
Was the total amount significantly different from the estimate?
– There were errors in the budget, but not a single repair is complete without it
Were the deadlines accurately respected?
– Deadlines are fully met
Did you control the work progress at the apartment?How easy was it for you to receive information on the progress of work?
– Yes. Everything was easy and accessible + feedback from employees
What is the benefit of this repair service?
– The benefit was in the development of a stylish interior and quality renovation.
If you had any questions how quickly and efficiently they helped you solve them?
– All employees responded promptly, selected all possible solutions
Is the result justified your expetations?
– Yes.
Full name:  Pomelo O.