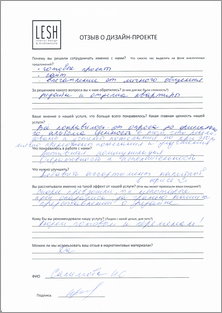 Why did you decide to work with us? What has highlighted us against the background of others?
– Ready projects, website, impressions from personal comunication
What kind of question did you need to decide?
– The design and finishing of the apartment 
Tell us your feedback about our service, what did you like most? What is the main value of our service?
– Everything is great from the questioning till the final album. The value is that implemented and taken into account the wishes, but gently proposed wishes and improvements. 
What do you like most about work with us?
– Active communication, efficiency and diligence
What needed to be improved?
– Add a range of drinks in the office :)
Did you expect exactly that effect from our services?
– Rather surpassed, because some ideas were beyond our ideas about design
Whom do you recommend our service?
– To people who is ready to changes!
Salimova I.S.