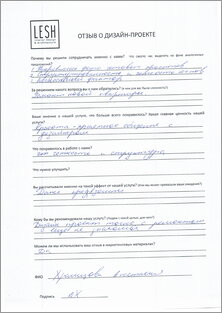 Why did you decide to work with us? What has highlighted us against the background of others?
– 1. We like the photos of your projects 
2. The structure and clarity in steps of the project
3. Personal factor
What kind of question did you need to decide?
– Renovation of new apartment
Tell us your feedback about our service, what did you like most? What is the main value of our service?
– Beauty + plesant communication with designer
What do you like most about work with us?
– Clarity and structure
What needed to be improved?
– 
Did you expect exactly that effect from our services?
– Even surpassed
Whom do you recommend our service? 
– The development of design project to our friends. 
Hramcova A.