Do you want to make the bathroom of your dream? Or is you washroom just in need of repairs and you feel like it`s time to renovate it up and add some details? This video can help you hit home.
Hello everyone, welcome to LESH design studio. I'm glad to see you all here! Today we are going to talk about interesting ideas for the bathroom.
If you are for the first time here and you love design, then you should definitely subscribe to join our community. I also want to remind you to turn on the bell in notifications, so that you don't miss my next videos, because they will be compelling.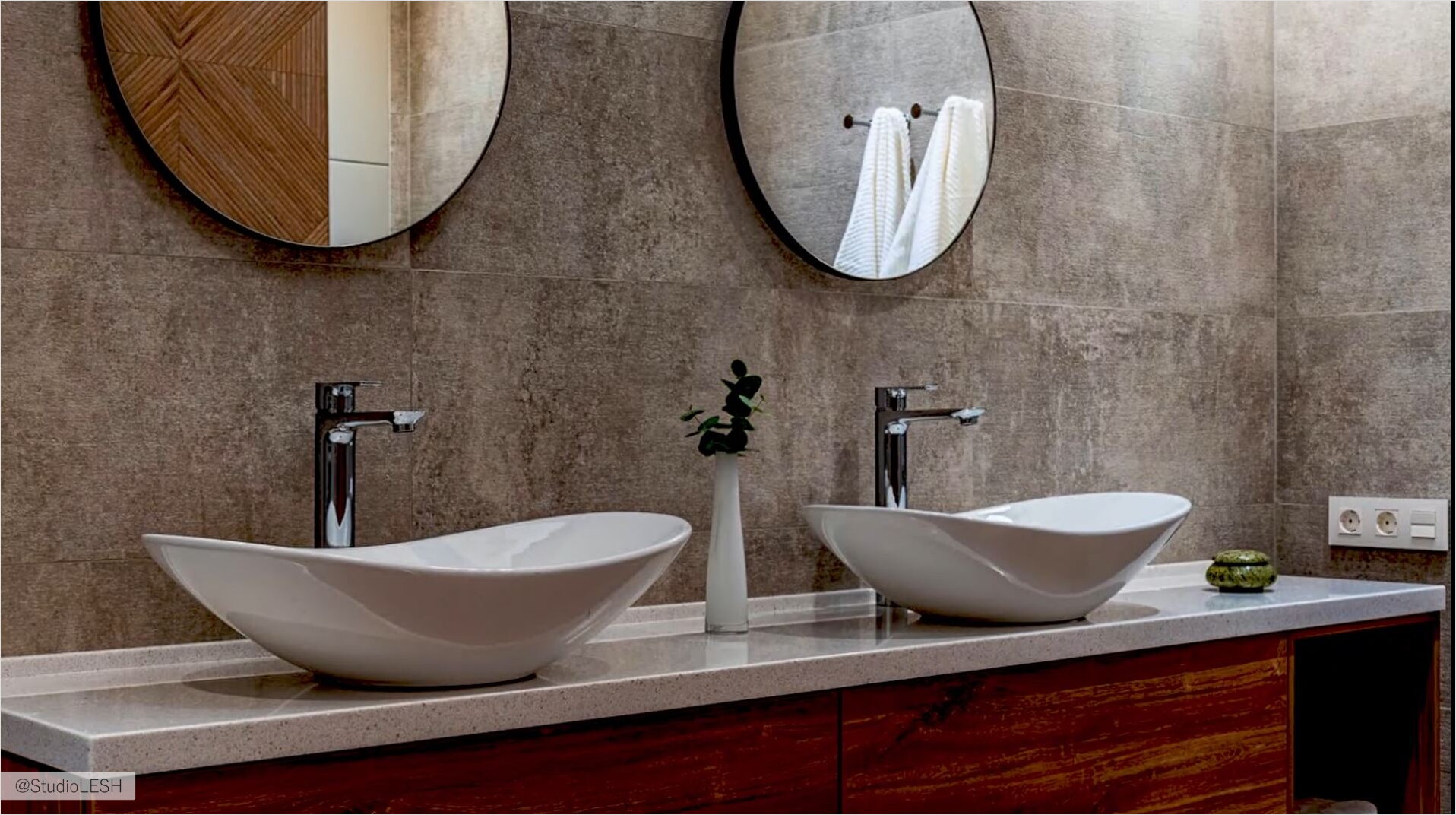 The finishing material
When you choose the finishing material for your bathroom, remember the main rule: it should comply to a single stylistic and artistic direction of the apartment`s entire interior. And it should not be a separate room, like a ShowRoom in a store.
So for example, if you are establishing an apartment in a Scandinavian style, then it would be wrong to choose a luxurious finish that imitates marble or onyx. It is much more appropriate in this case to choose porcelain stoneware with imitation of travertine or sandstone. That is why something more restrained will make sense.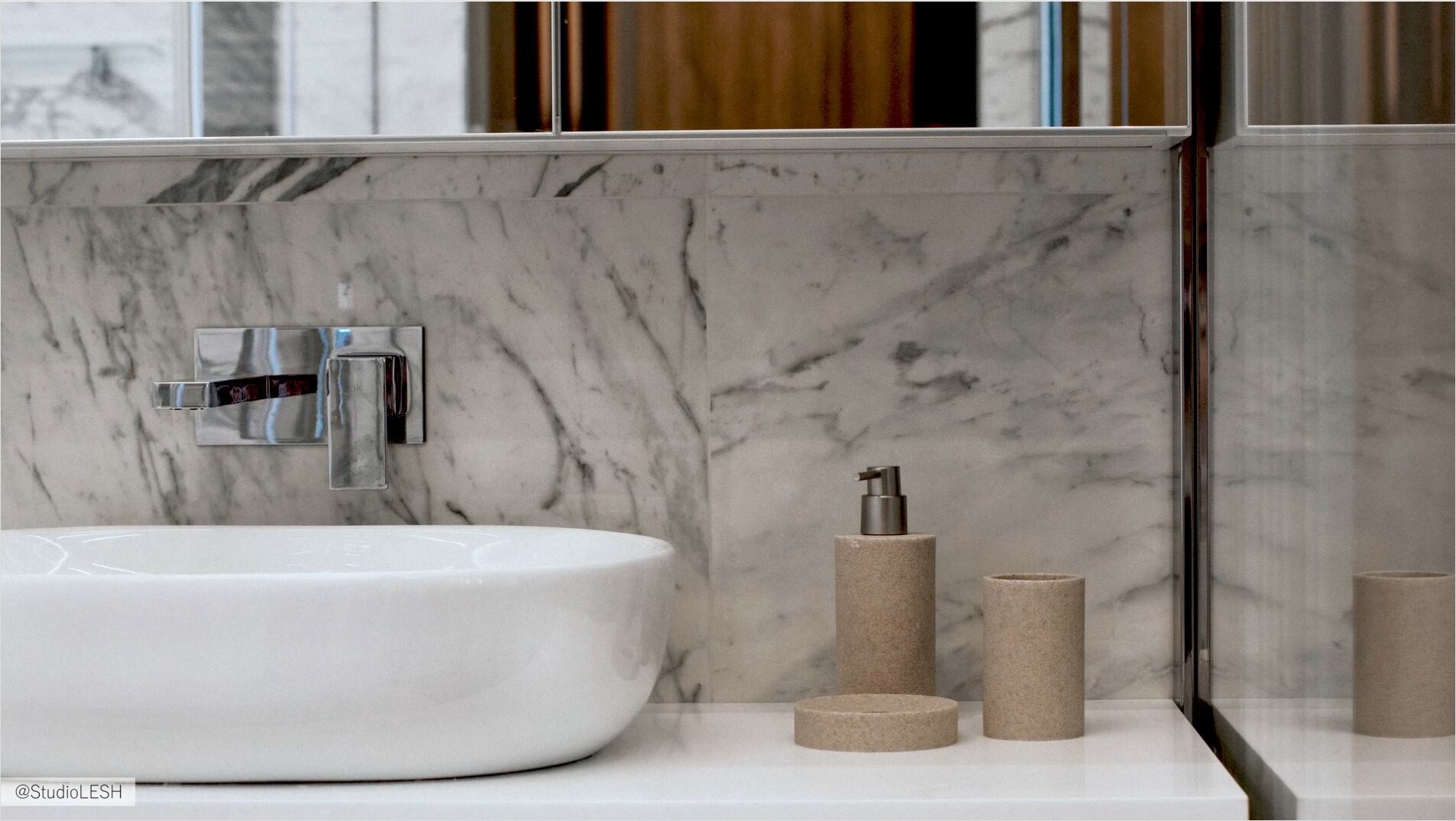 Try to choose self-colored porcelain stoneware for the entire bathroom. But still, if you want to somehow adulterate it, it is better to use tiles from one collection. The consultants in the store can bring you a catalog with various combinations of tileworks that you have chosen. It is also very important to pay attention to the size, on the principle «the larger–the better». Large-format porcelain stoneware will always look stylish and interesting. But at first clarify what format your tiler worked with, because experience and qualifications are essential here.
The bathroom furniture
When you are creating a design, it is very important to take care of how the storage is organized. So that all these jars, tubes and bottles do not bungle your interior. One of the most effective solutions in this regard is a mirrored wardrobe attached into the wall.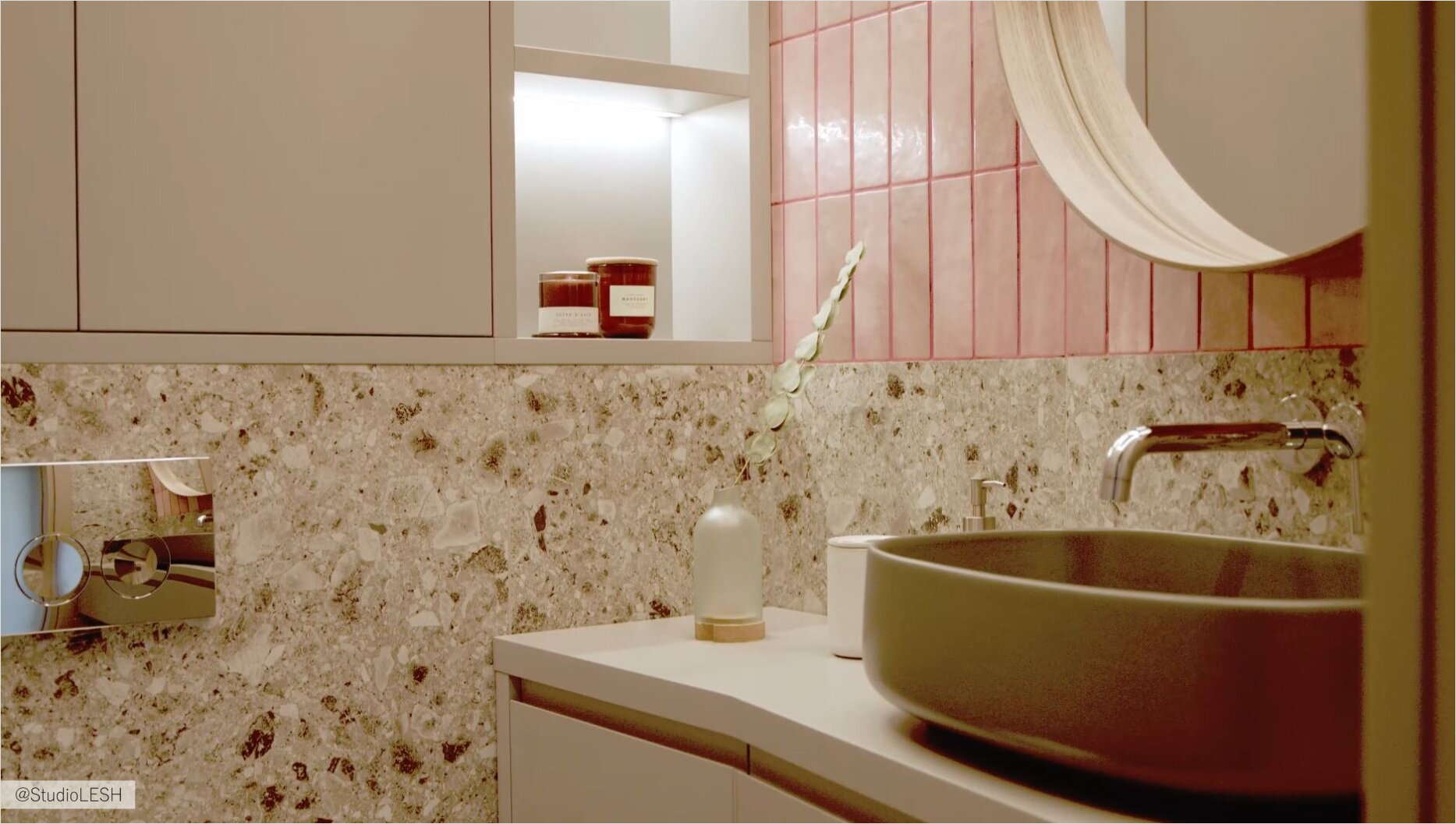 It easily closes the issue of storing a hairdryer, sponges, cotton swabs, jars and tubes. As a rule, there are a lot of them, and they spoil the whole design. A very important point that you should also think about in advance is how you will open it. The push opening is not very suitable here, since pressing with wet hands on the mirror will constantly leave marks on it.
You can make handles profiles or facades slightly protruding from the wall by 10-20 mm, and make them slightly lower than the main structure. Then you can open behind the facade without touching the mirror, and tape over into the resulting niche a diode illumination. This will make your bath more specific. Also, such an alternate design will allow you to get rid of a bulky vanity unit with drawers and install a freestanding more elegant sink.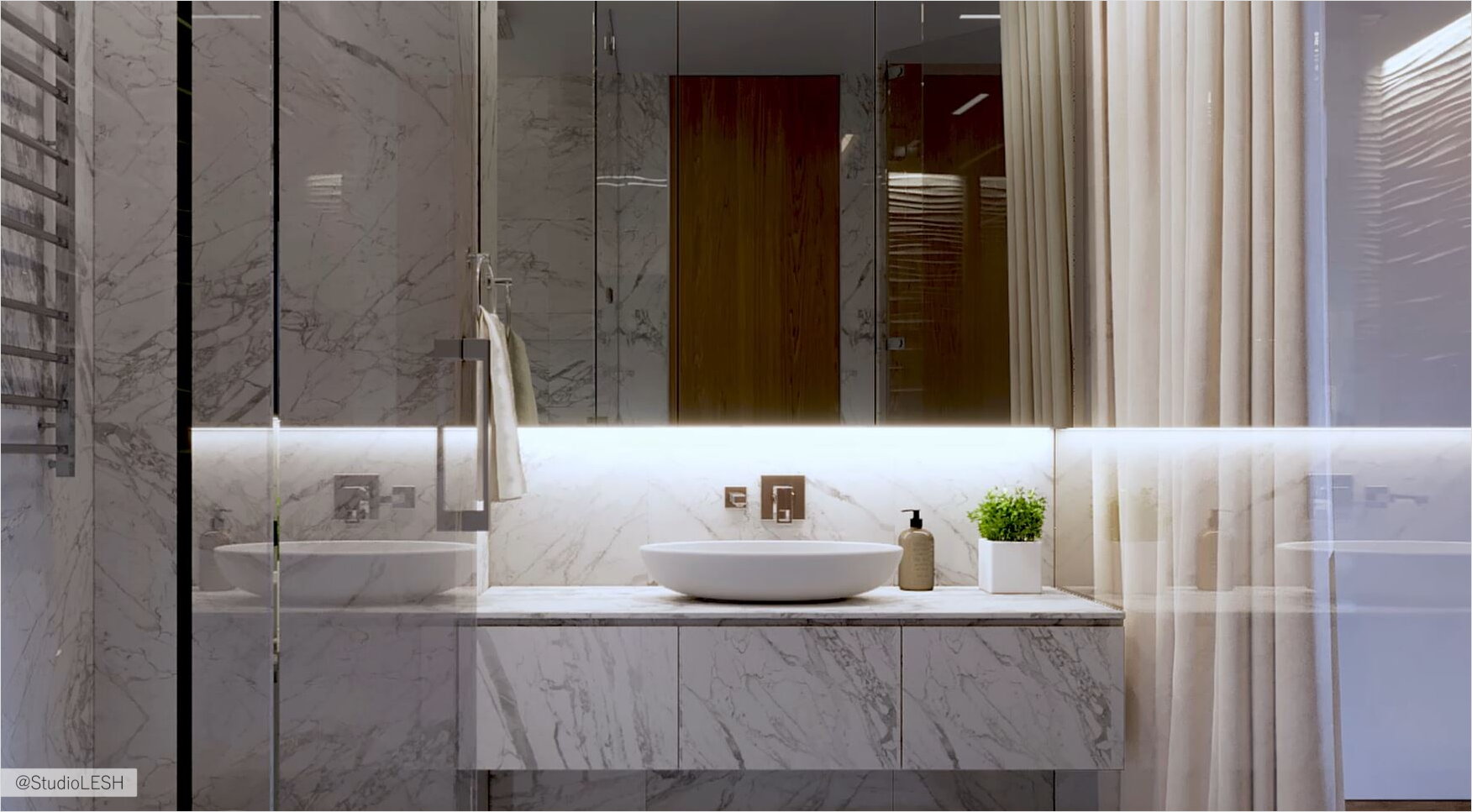 We also need the shampoos and gels that we use every day to be always at hand, and to take them with us to the shower, wipe them with a towel and put in the closet is very inconvenient. So, include shelves in the shower area. I really like these one, the link to them will be below in the description. https://www.instagram.com/leshstore/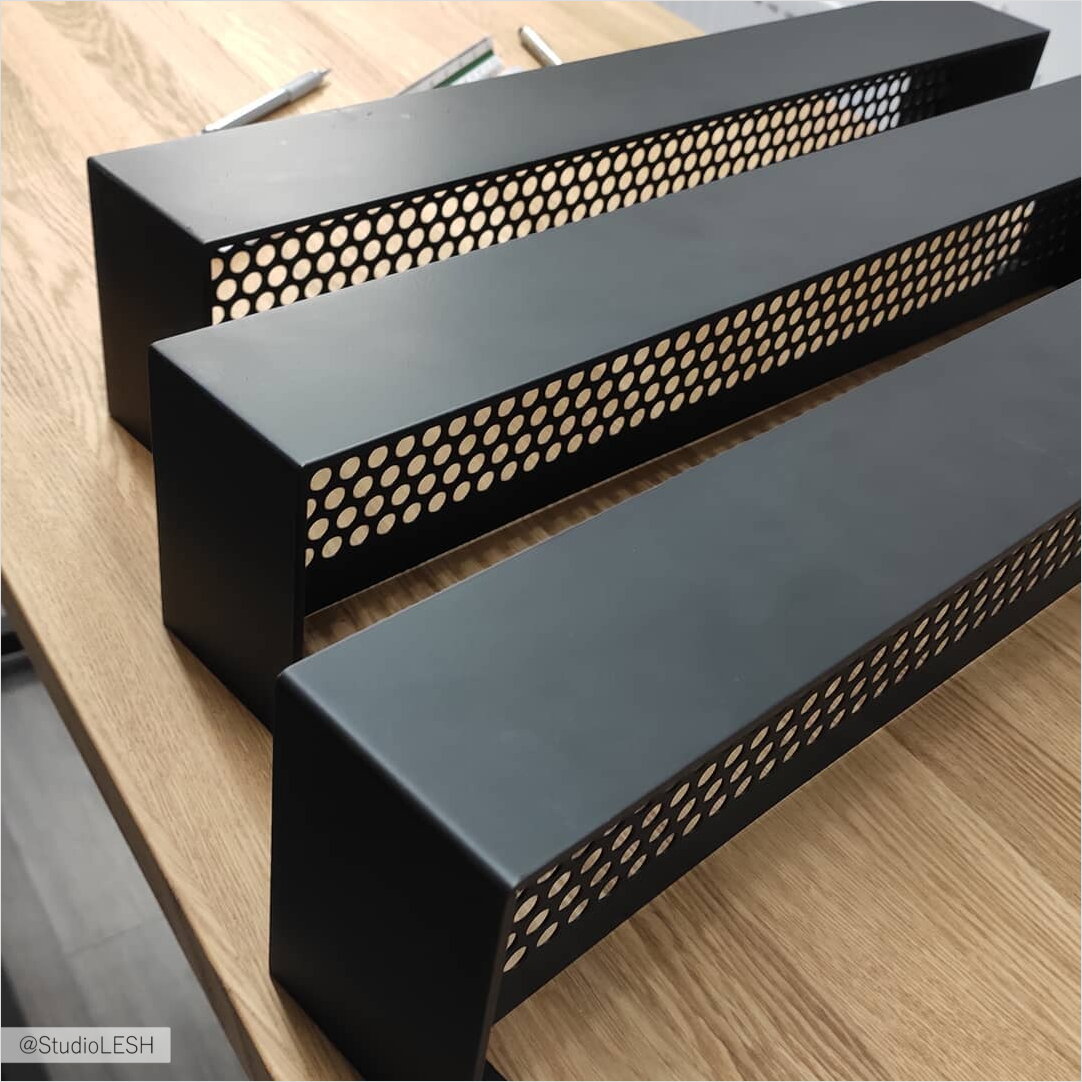 The lighting
Illumination should have different scenarios. Typically, there are only two of them go with bathroom: basic and relaxing lighting. The first one is understandable. It should be just light and bright. With the second you will need to think more carefully. You can make lighting in decorative niches, under the raised platform of a shower stall or bathtub. It can also be low-power spotlights that highlight something accent in the interior. That is, you need to create lighting which would be enough to feel comfortable and at the same this time would allow you to relax and your eyes to rest.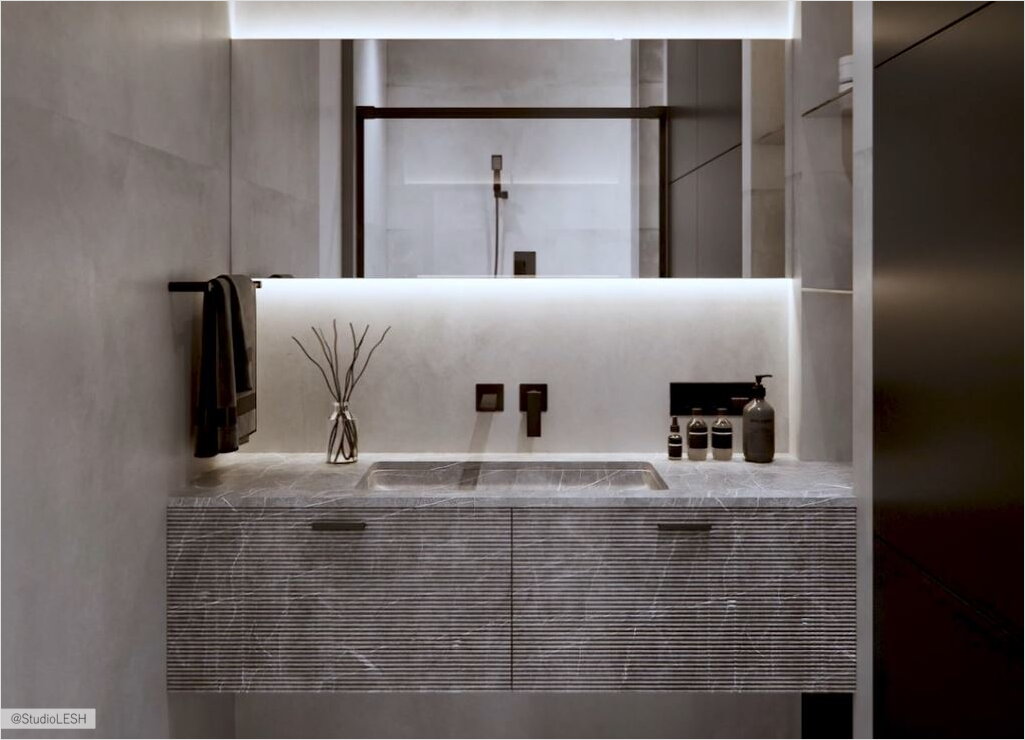 The plumbing fixtures
Stop put the toilet bidet. You can use a hygienic shower, or a toilet combined with a bidet function. This will save the space and moreover you can use it for storage.
We also recommend getting rid of the bulky shower cubicle. In addition to the fact that all of them, without exception, look terrible, so... Yes, just, they look terrible, and it seems to me that this is enough to refuse.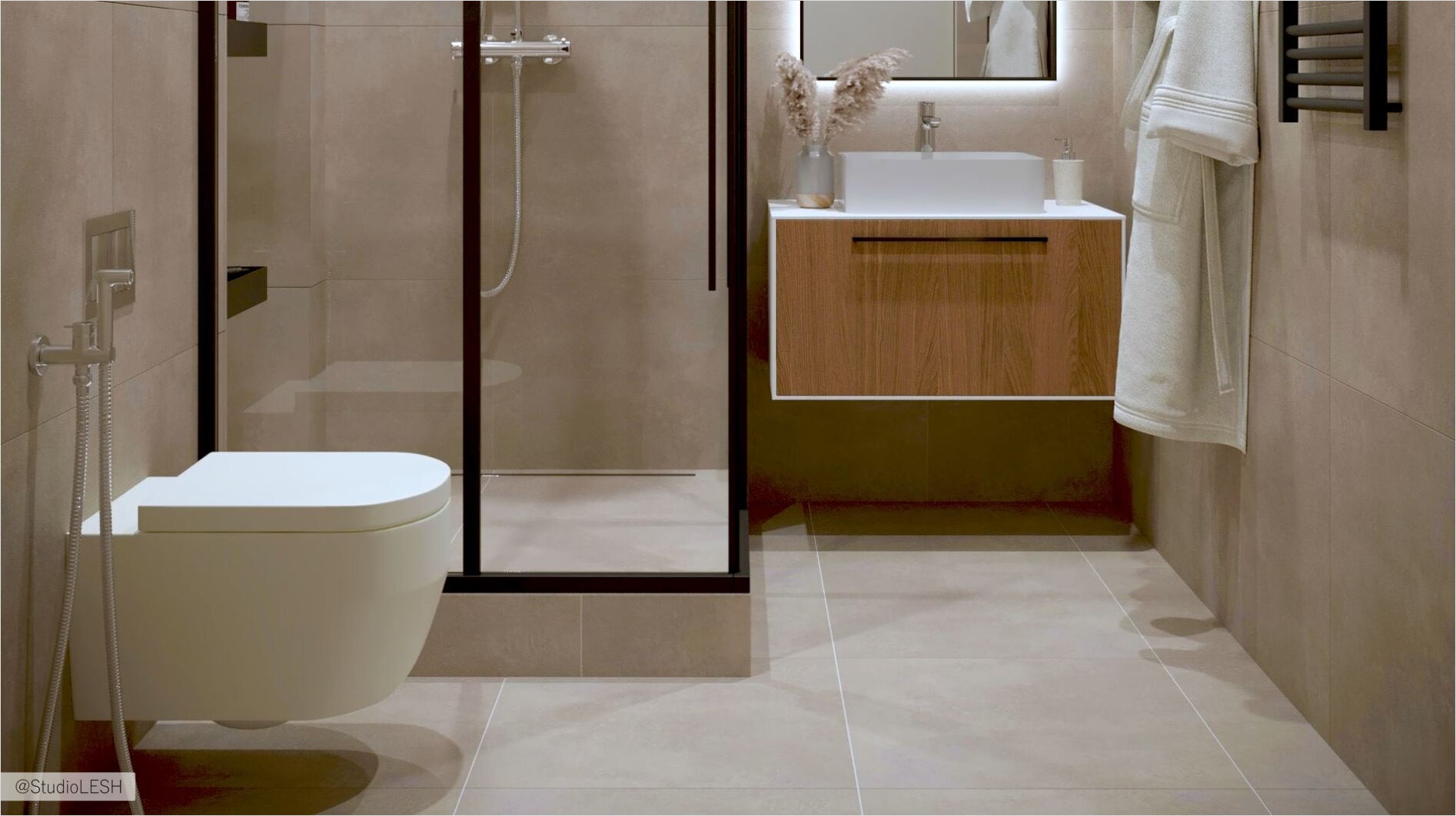 Instead of a shower stall, we make a podium and enclose it with glass curtains. I know that now many of our viewers are indignant. They say it is impossible, it is prohibited by law, but calm down. Firstly, in some cases this can be done. For example, if we are talking about a private house. Or if you live on the first floor and a basement is below you. Or you don't care, because you want it to be breathtaking.
Secondly, there are wonderful trays that can also be installed separately. And also such a thing can be made to order from cast marble when it comes to a shower of non-standard dimensions. This technique will also allow you to make glass curtains in a more elegant profile than the supplier of shower cabins offers. If you think about it at an earlier stage, even before the tile, then such a profile can be hidden and achieve an even more pleasant and aesthetic visual effect.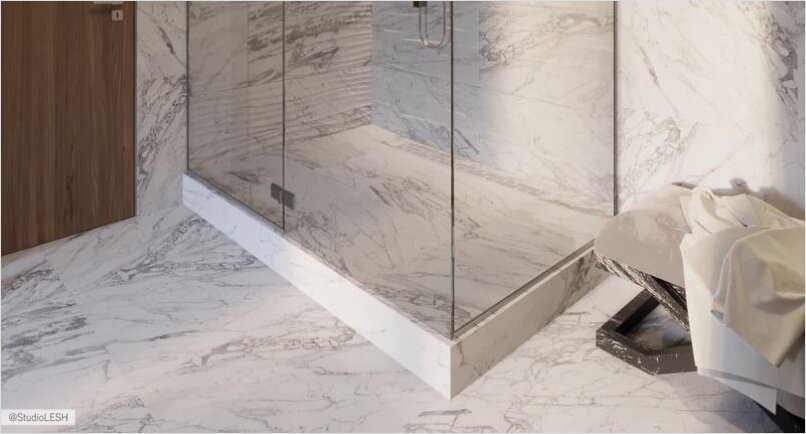 The combination faucets and shower systems
Choose built-in whenever possible. Firstly, it is more technological and modern solution compared to conventional ones. And secondly, there are fewer problems with them when it comes time for general cleaning. It goes without saying, how it is difficult to clean all these chrome pipes.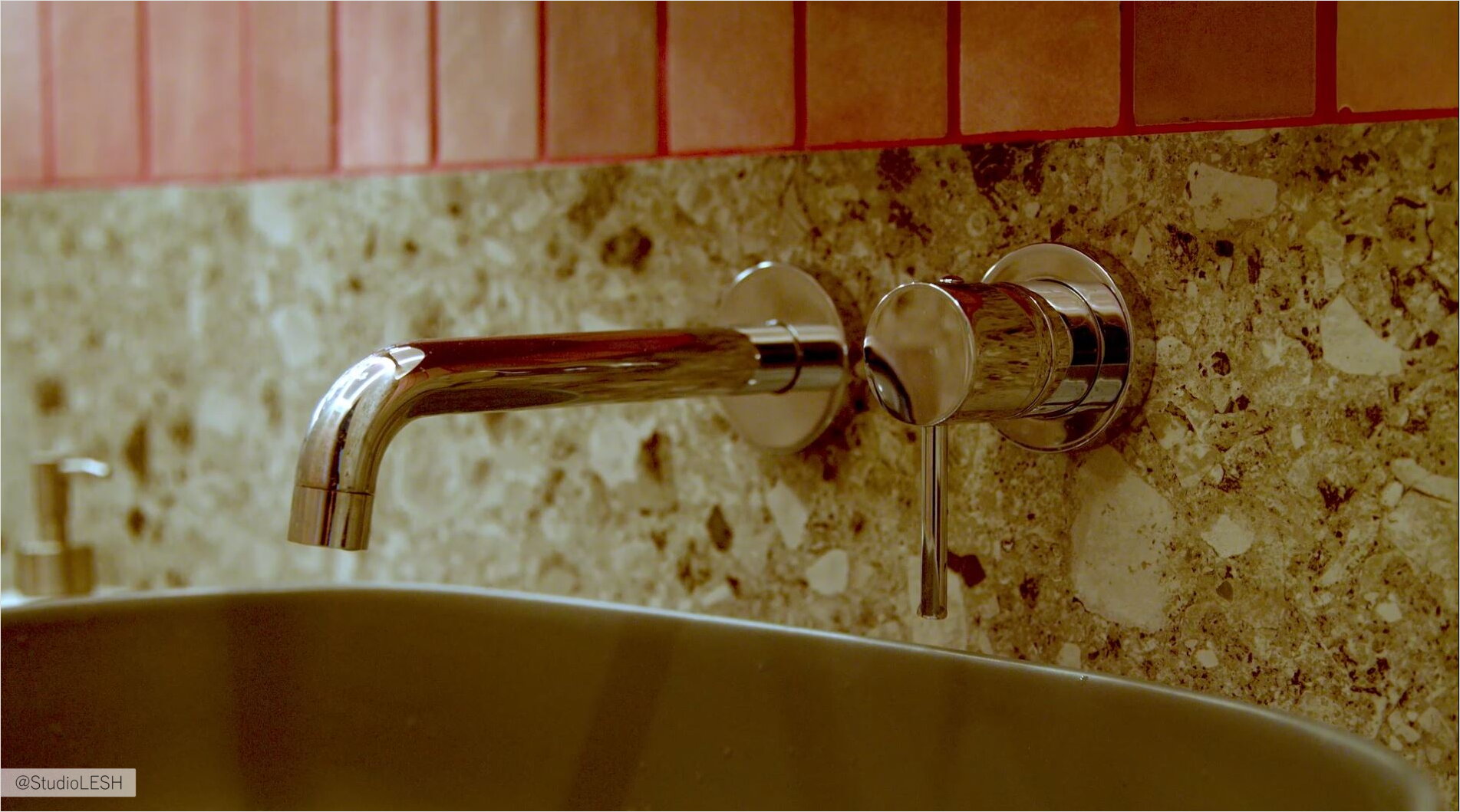 The towel dryer
Instead of a heated towel dryer, a warm floor can be in the use! Yes, you heard it right. The point is that underfloor heating is installed on a free section of the wall where towel hooks are planned. This technology can also be used with a bathroom mirror, and you end up with a fog-free mirror.
The switch sockets
If you do not want the electric shaver or toothbrush lies at everybody`s fingertips, but to be in its place. Install the sockets in the mirrored shelves that we talked about above. The same can be done with a hairdryer. The main thing to remember is that if you do not want to unplug it, then it would be better to purchase a professional hairdryer, such as in a hairdresser or fitness club. A cheap hair dryer can simply burn out even if it is put in plug.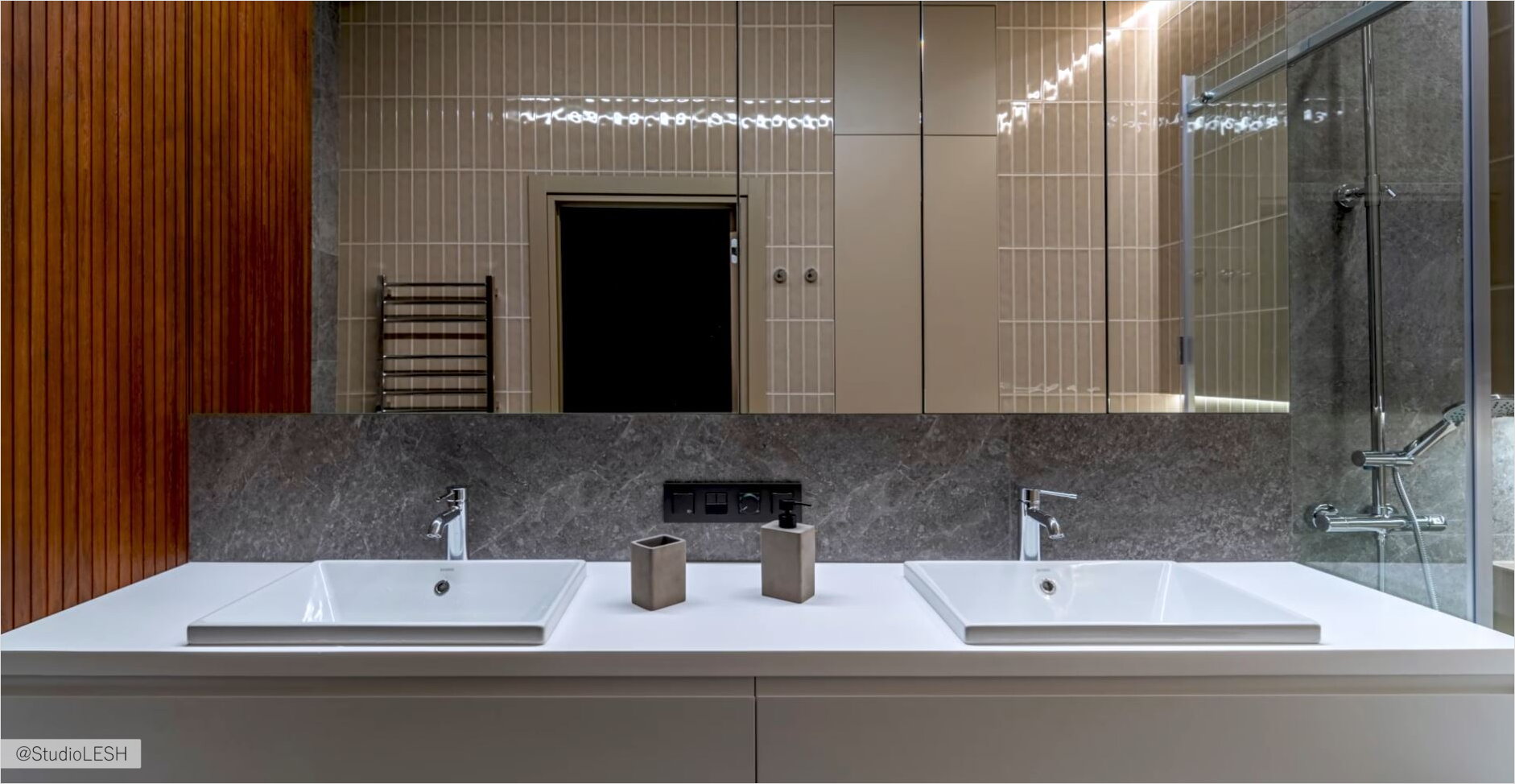 The plumbing and service hatches
In the bathroom, as a rule in city apartment, all the plumbing distribution is done. Collector groups are installed all filters and meters. All of this needs access to service and make readings. A hatch or door is required to provide access too. You can install an invisible hatch or order a locker according to your size. By the way, if you want to look into the inspection hatch as little as possible, you can install a special system that will send you readings from water meters directly to your phone.
Also, be sure to take care of installing leakage sensors. When such a sensor gets wet, it immediately shuts off the water in the entire apartment. And the water stops flowing until the problem is fixed or the sensor dries up. Therefore, it is advisable to install them wherever water can in theory come from. Or you can make the floor in the bathroom with a slight understatement relative to the floor level in the entire apartment by 5-7 mm. This will be enough for the sensor to work before the water goes into the corridor. This solution allows you to get by with just one sensor per room.
The hot water appliance
Many of our clients ask to install a water heater for them, per minimum 80 liters. So that they can wash themselves if the water is turned off. We do not install them, because they are huge and spoil the whole design. Instead, we offer our customers to install an instantaneous water heater. For two weeks a year when the water is turned off, it is enough to wash the dishes and take a shower. The main thing is not to save on the quality of the product, so as not to change it after two or three times of safety operation.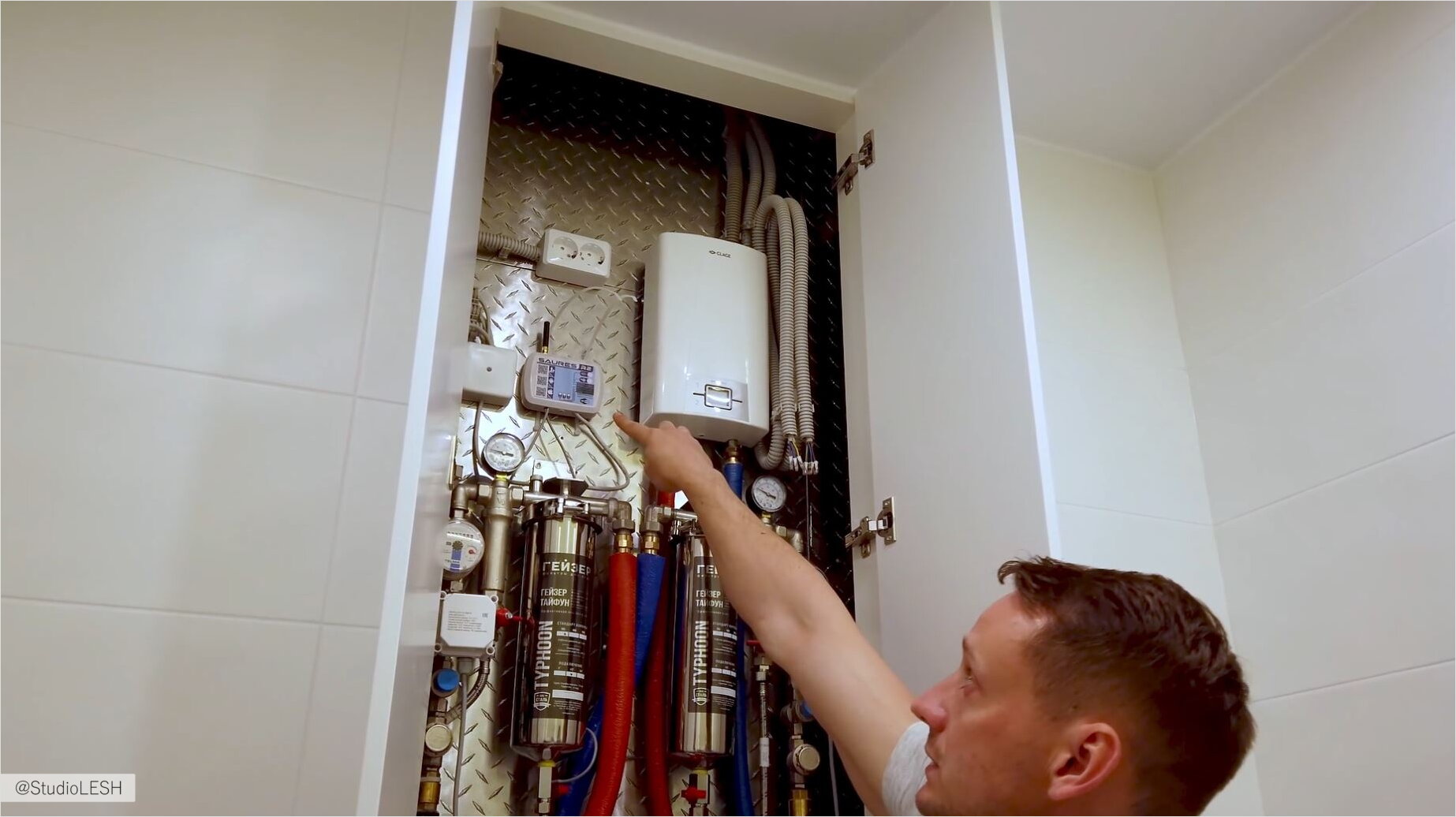 Which idea did you like the most? What would you use in your bathroom? What other helpful techniques for bathroom repairs do you have? Be sure to write in the comments, because it will be useful not only for me, but for the entire community. Subscribe and see you in a week.